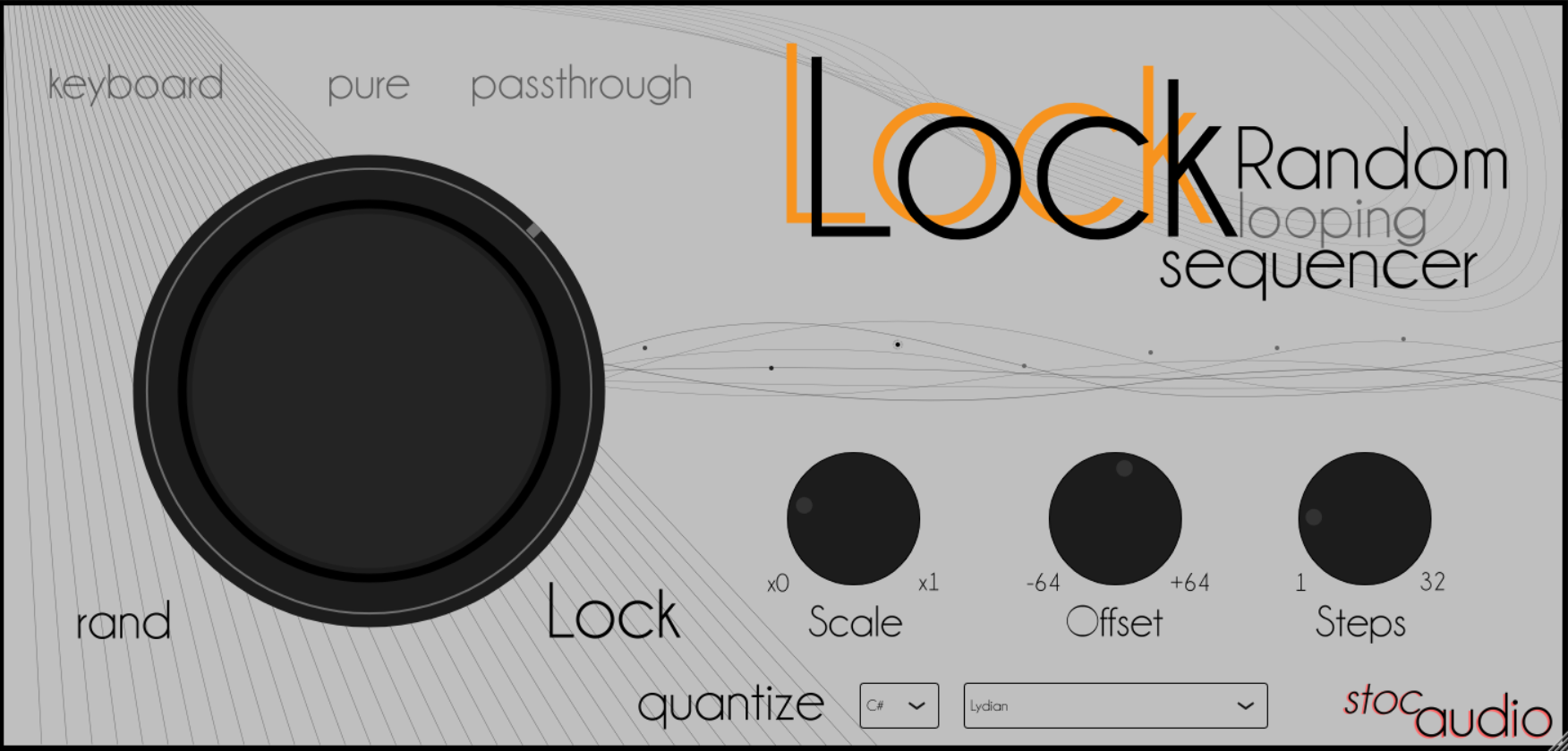 Lock
Lock is a random MIDI sequencer plugin.
Lets you create random looping melodies or chords in few seconds.
It was inspired by Tom Withwell's eurorack sequencer "Turing Machine".
It comes in Max For Live and VST/VST3/AU formats for both Mac and Windows.
Check out the user manual to know exactly what's inside and how to use it
Lock is a random (but very musical) sequencer
It is directly inspired to the mind-opening eurorack sequencer by Tom Withwell "Turing Machine".
Let it move with Midi notes and get your musical sequences (and chords!) out fast.
Dedicated Max For Live device
We made an amxd version of Lock
in order to use it simply with Ableton Live

This will save you three track routed togheter
wich you have to keep if using a MIDI-generator VST
Random Probability

For every note Lock receives it calculates the one that comes out:
With probability full left you always get a completely random sequence.
With probability full right you have a locked sequence.
Everything in between sets the amount of randomness-
Scale Quantizer

You can select your scale and impose your key to the sequence (even if locked).
Never get out of focus, useful to get something working fast-
Modify your sequence

You can set steps, scale and offset your sequence at any time (even if locked!). This way you can adjust the result as desired, let it sit in your composition nicely or drive it completely crazy-
Handle behaviour with modes

You can manage your input and output with three different modes:
Keyboard Mode changes the "random" with the incoming notes, allowing you to manipulate your live playing
Pure Mode turns off Offset and Scale parameters, used with Keyboard makes Lock an unique scale quantizer
Passtrough Mode adds the input to the sequence out (to drive other sequencers, events, etc)-